"GENMA" Brand Catenary Bucket Ship Unloader Was Identified As The First (set) Major Equipment Product In Nantong City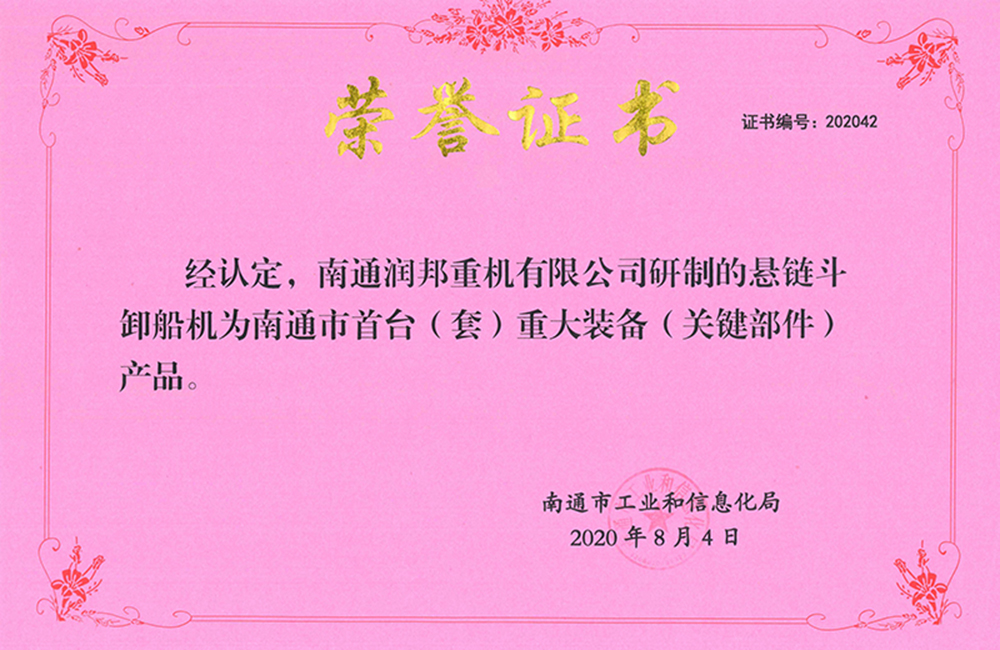 Recently, the "GENMA" catenary bucket ship unloader under Runbang Heavy Machinery's own brand was recognized by the Nantong Bureau of Industry and Information Technology as the "Nantong City's first (set) major equipment (key component) product". This honor has been fully achieved. It embodies the R&D and innovation ability of Runbang Heavy Machinery in bulk conveying operations.
"GENMA" catenary bucket ship unloader is a port terminal bulk material conveying equipment independently developed and manufactured by Runbang Heavy Machinery, which is professionally used in the unloading operations of bulk bulk materials such as coal, ore, sand and building materials. The product adjusts the ship moving speed through frequency conversion. Without changing the speed of the chain bucket mechanism, it can achieve stable ship unloading efficiency and meet the requirements of low-speed entry and high-speed retreat. It is well received by customers.

The achievement of this honor is another vivid example of Runbang Heavy Machinery's insistence on independent technological innovation and strengthening its own brand. In the future, the company will continue to strengthen the development of new products, continuously improve product development capabilities, and make greater contributions to the development of the industry.