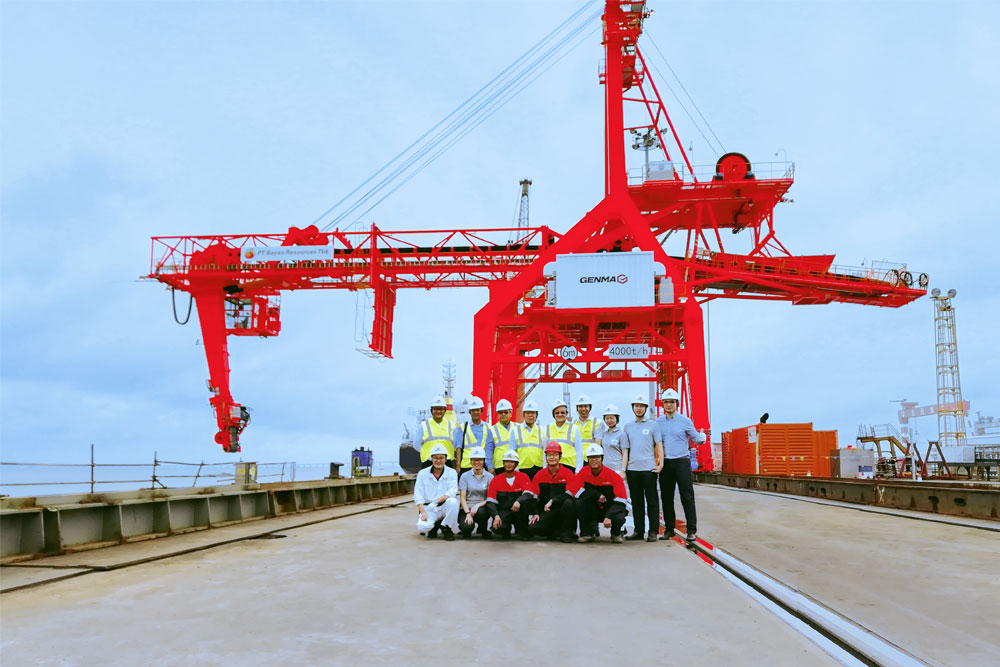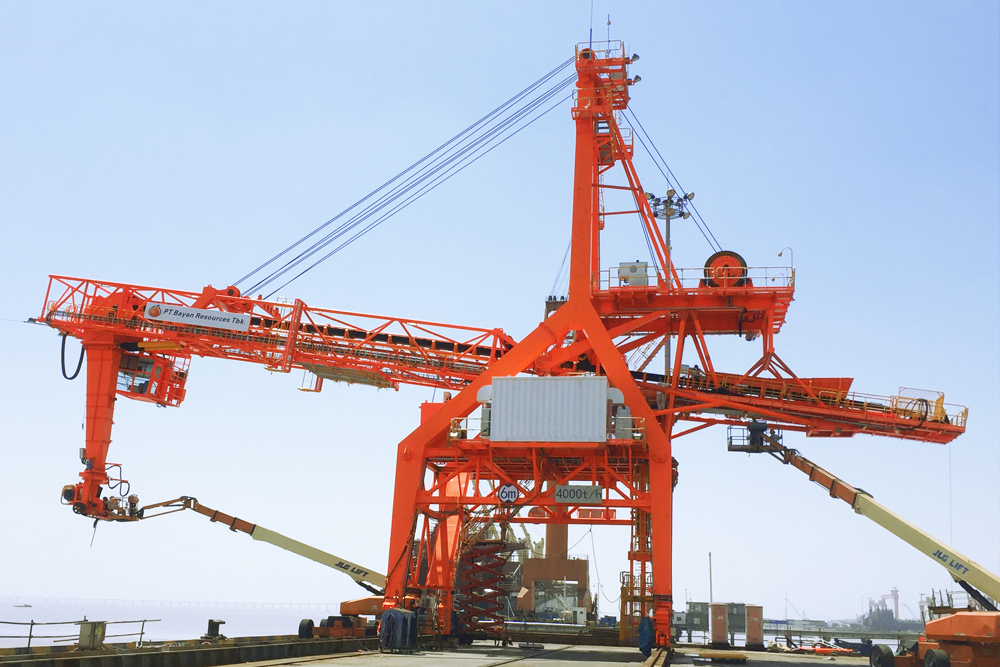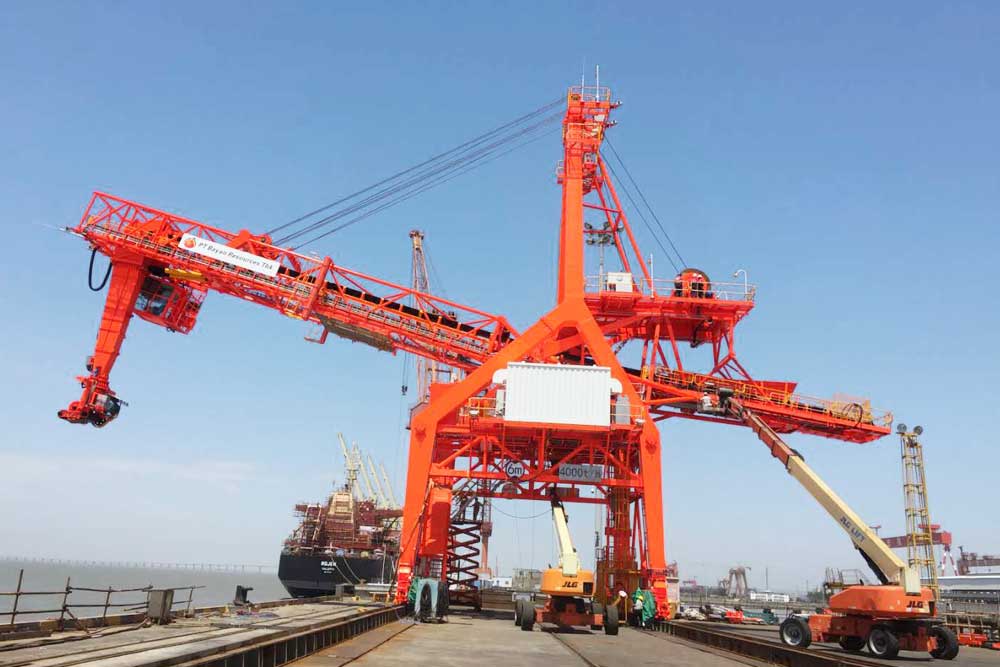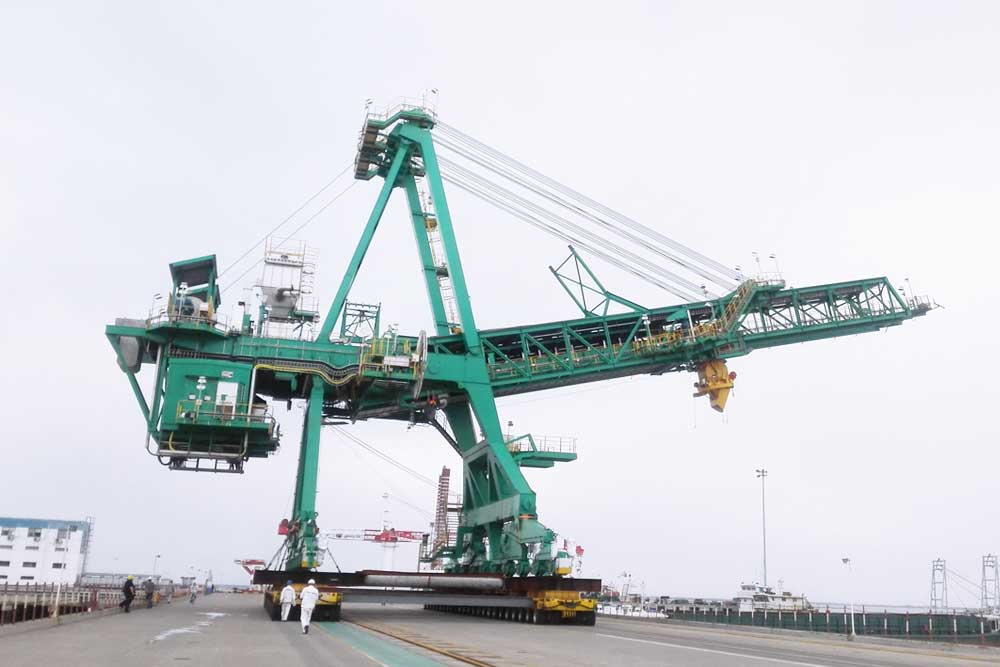 Ship Loader
The GML series ship loader is mainly used for continuous loading operation of bulk cargo, which is mobile ship loader with 3 types of installation methods can be chose.

Feature
Reference
Testimonials
Details
Parameter
•Flexibility: various materials can be handled, such as coal, mineral, cement and grain etc. Multiple structure, power supply and lighting system options provided.
•Optimized control system and structure: excellent PLC program development ability ensures optimized controlling methods. Developed hydraulic drive technology and lubrication system ensures higher efficiency and less maintenance needed.
•Efficient and low noise: boom stretching and luffing, slewing and gantry travelling lead to wider working range. Telescopic chute equipped with slewing throwing device further enhances the working efficiency. The variable-frequency boom conveyor can flex and control the conveying quantity. PLC electric-control and wire controller system, reliable and low-noise.
•Environmental & energy-saving: less installed power and energy consumption. The conveyors adopt soft starters which can save cost and meet the demand of energy controlling. Flexible telescopic chute installed with wear-resistance and dustproof features. Dry fog dust suppression or negative pressure dry dust removal system can be choosed based your condition.Telescopic Chute
Chain-plate Feeder
1.Low dead weight. Optimal design to increase the stability during loading.
2.Rollers move on the rollway to reduce operating friction at the speed of 0.1m/s.
3.Slow-speed design to buffer the material pressure on the belt and prolong the service life of the belt.


Boom
1. High-strength material and low self-weight.
2. The height of the boom ensures that it does not touch the ship's side.
3. The boom tail is hinged on the rear support beam to grants the boom luffing function.
4. The belt conveyor is located inside the truss to reduce dust pollution and protect the environment.


Belt Conveyor
1. This consists of an electric motor, hydraulic coupler,reducer, wheel brake, drive pulley, direction pulley, belt, and roller.
2. Equipped with a belt scale for weighing the transferred material.
3. Pull-wire switches on both sides of the conveyor belt means that the operator can stop the machine when the ship loader fails. It is also equipped with a belt anti-deviation device.
4. No dust with its pollution-free operation.
5. Equipped with inclined slats to reduce the wear of materials on the belt.



Trimmer and Jet Slinger
1.Permits loading in different directions for highly efficient operation.
2.Dustproof and environmentally friendly.


Chassis
1.16 Rubber tyres equally equipped at 4 corners.
2.4 outriggers at front and rear beams for hydraulic jacking.
3.Diesel gen-set, hydraulic station and electric room set at the front parts of chassis.
4.The front and rear beams are box structure with Q345 steel welded.


Wire Rope Luffing Device
1. Easy to use variable speed control.
2.Compact design and lightweight.


Power Travel System
1. The shore power of the terminal is powered by a cable towline.
2.The whole machine runs on the track.


Hydraulic Jacking System
1.Tyre-protection: 4 outriggers for work condition only, reduce the tyres pressure and protect it.
2.Cost-saving: Share hydraulic station with luffing cylinder.


Diesel-generator Set
1.Top brand engine chosen .
2.Environmental & Energy saving.


Electrical Room
1.Well- organized with top brands electrical components.


Cabins and Controls
1. Broad vision from the control platform.
2, High degree of automation and operational safety
3. Humanized design and safety-conscious precautionary equipment design.

Balikpapan Coal Terminal (BCT)
Handling material:coal
Capacity:4000TPH
Weight:270T
Applicable vessel: 15000dwt-120000dwt
More Details

Genma GML series mobile ship loader is mainly used for continuous loading operation, with capacity ranges between 500-6000TPH, which is more flexible and easy to move.

3 types of installation
-Railway
-Arc-swing
-Linear swing
Capacity ranges between 500-6000t/h.
Feedback form contact with us