Maritime gateway-2018.07-THE 3RD GENERATION GENMA MOBILE HARBOUR CRANE, 20% EFFICIENCY INCREASE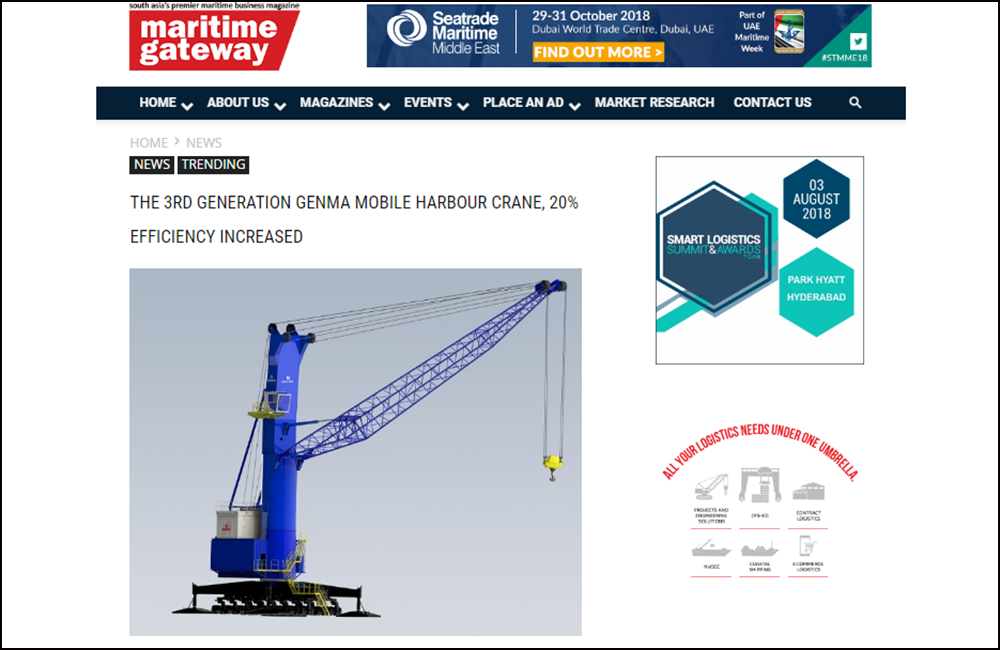 Recently Genma launched the 3rd generation Genma mobile harbor crane. Compare to the previous 2 generations, the 3rd generation will be more intelligent, efficient and ultimately help our customers earn more profit.
Structure upgrade & more undercarriage choices for terminal
The tower structure of the latest GHC upgraded, more strong and reliable. Far more than this, the most prominent point of structure upgrade is that we add one more choice of undercarriage.
We called the new-born as gantry-tyre type. No need to install rail on the terminal ground, while both has the advantage of rail-type that being accessible by wagon and train and the advantage of the tire-type that can flexibly travel to different operating points. This means we can provide more choices for terminals especially for those narrow ones.
In brief, mobile harbor crane is well-known as its' mobility and flexibility. We optimize and maximize this highlight.
20% Handling Efficiency Increased
Based on the experiment data, the efficiency of the 3rd generation GHC increased nearly 20%.
How did we do it?
1. Intelligent Loading & Unloading System, Smarter and More Precise
The smarter loading& unloading system can choose optimal operation path and carry out the action plan in short time. All the smart action only need to set 2 times buttons of initial and destination point, easy and no need of complicated training to operator.
2. Anti-Sway Technology, More Reliable
With improved anti-sway technology, container operations are smoother and more stable. This also means that more time is saved and the efficiency is greatly improved and the fatigue of operators is reduced.
3. Intelligent Grabbing Technology
Not only that the grab can adapt to a variety of materials, but at the same time each grab action is optimized. It can grab the materials to the greatest extent in different working radius, fulfill the design performance. Yes, it means more efficient.!
Not Only Efficient but Also Environmental
For the environmental aspect, we make it from 2 sides.
One side, the basic thing, provide shore power option for customers. Our users can switch easily between diesel engine and shore power.
The other side, the hydraulic accumulator can store energy and make the use of it. This is the totally new-added function in our 3rd generation mobile harbor crane. However, we select the proven energy storage technology.
Some Other Advantages of the 3rd Genma Mobile Harbour Crane:
1. Product life analysis system
With the product life analysis system, we can get the clear map of the equipment condition and thus to make the maintenance plan or even estimate the equipment value.
2. Multi machine cooperative operating system
With this system, the operator can command 2 cranes simultaneously. And both cranes can be fully utilized at the Max. lifting capacity
.