65t mobile harbour crane GHC65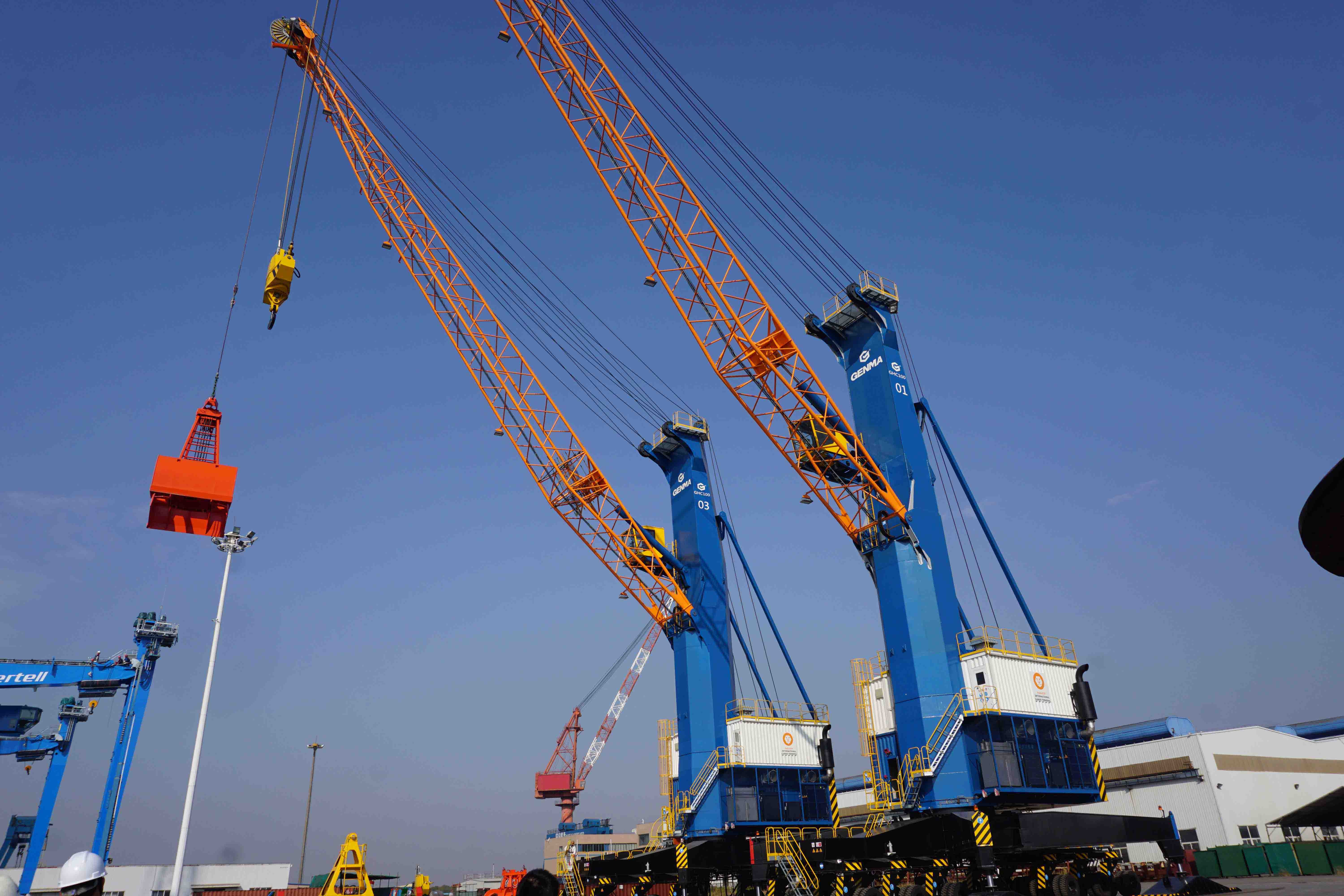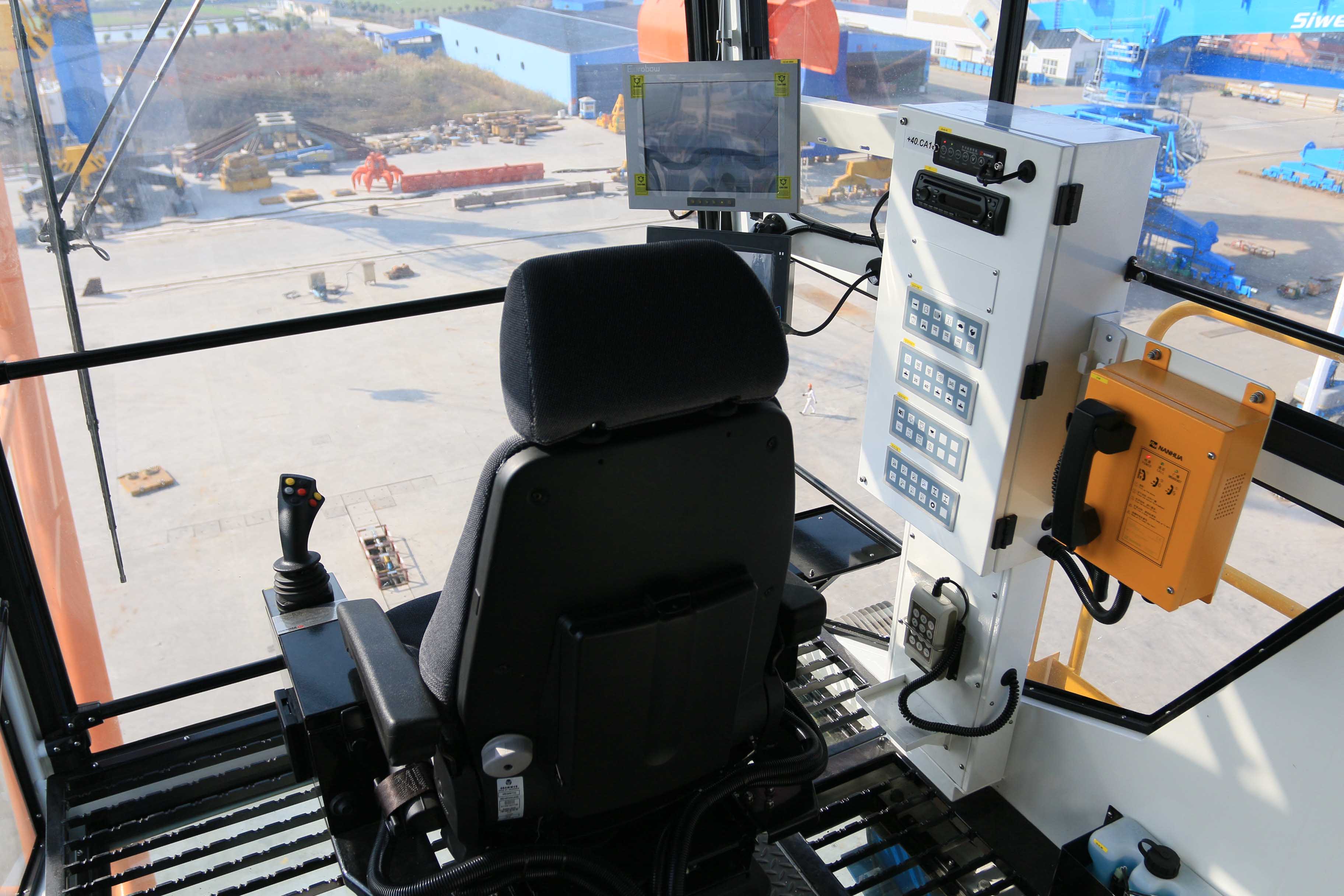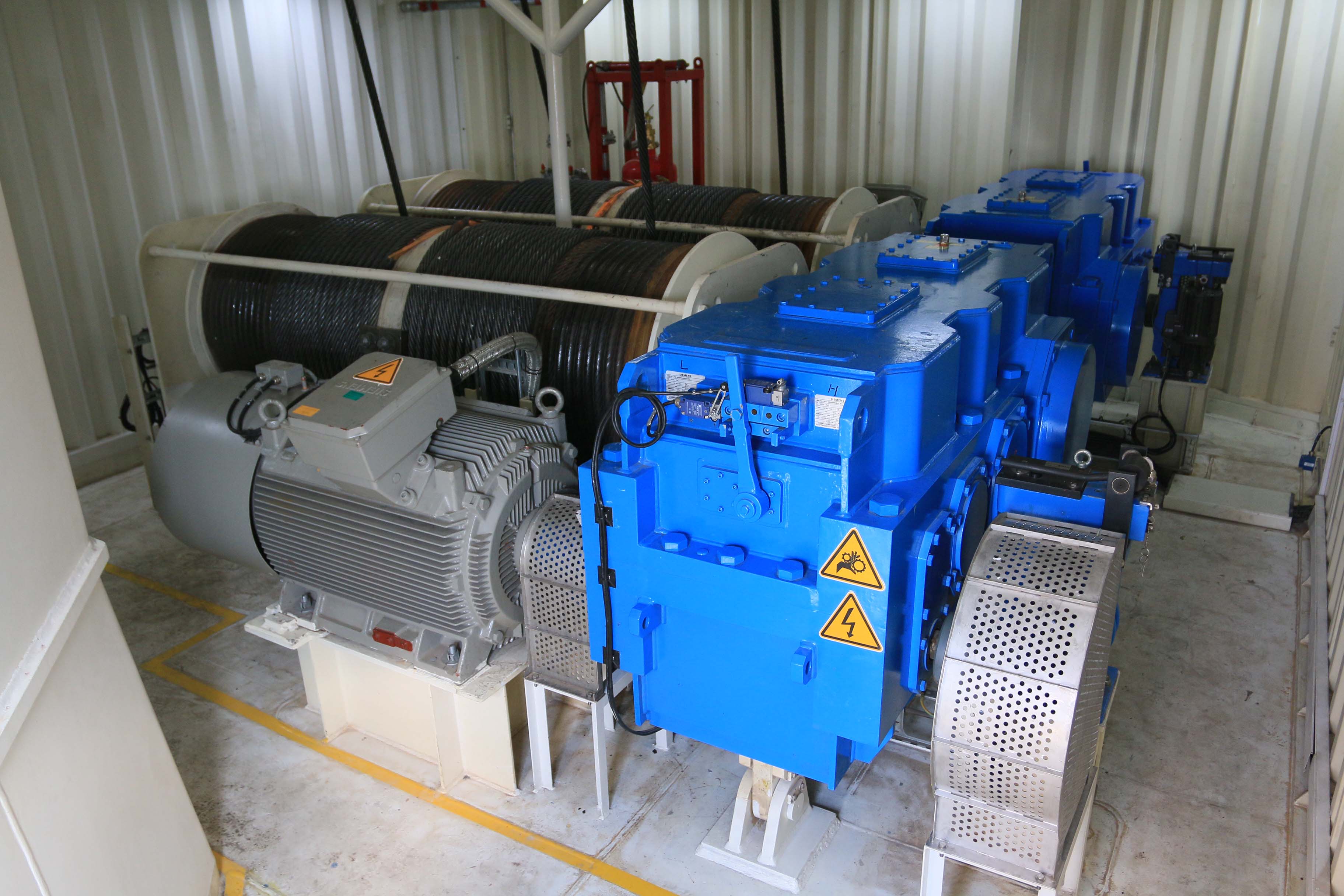 65t mobile harbour crane GHC65
The GHC series designed for different kinds of terminals: container terminal, bulk terminal and multi-purpose terminal along all type of vessels from barges to super post-panamax. A variety of cargos can be handled with GHC, containers, general cargo & project cargo and bulk cargo.

Reference
Testimonials
Features
Parameters
Overview
Model:

GHC100TD

Undercarriage:

Tyre-type

Client:

Paradip

Qty:

3

More details

Model:

GHC60

Undercarriage:

Rail-type

Client:

Runhe port

Qty:

2

More details

Model:

GHC100

Undercarriage:

Tyre-type

Client:

MIP

Qty:

2

More details

Model:

GHC200

Undercarriage:

Rail-type

Client:

Ruitai

Qty:

1

More details

Model: GHC63
Undercarriage: Tyre-type
Client: Jiangsu Wenqiang Ocean Engineering Co., Ltd
Qty: 1
More details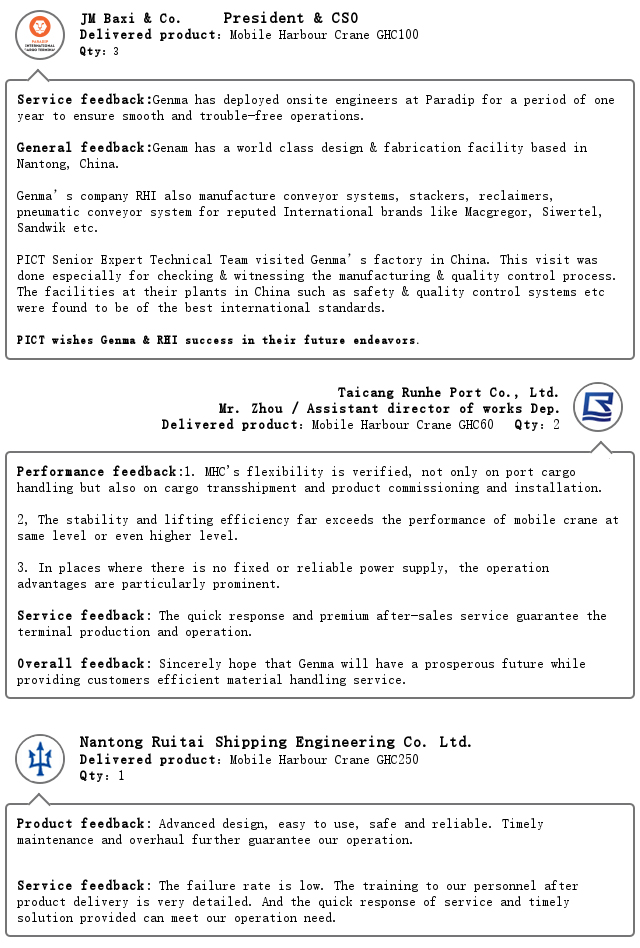 High performance engine
Genma only choose top band engine, with characters of fuel-efficient, long life cycle, high performance and environmental.

Hydraulic system
Winch system, slewing system and luffing system operate based on powerful hydraulic system. Precise control will be done while with low fuel consumption and easy maintenance.

3 types undercarriages
Rail-type, X-bracket or wheeled-type can be selected based on your working condition.

Flexible and easy to move
360-degree mobility is available.

Electric system
Genma only choose top brand electric components to make your maintenance more easier and guarantee the performance of the equipment.

User-friendly design
The operation room is designed based on broad view, comfort and easy operation. Noiseless room and anti-glare toughened glass further promise the safe and effective operation.

Safety guarantee
The whole structure uses high-strength plate and designed in variable cross-section. Using a truss boom, the cylinder is located above the boom to avoid the collision of the cargo.

Local service team, quick response
For each project we will organize the service team of local people with expertise and rich experience. Local spare parts warehouse and quick response service team, no need to worry about the communication barriers and response speed.
Rated Capacity & Classification
| Hook (Heavy lift) | 65t | A3 |
| --- | --- | --- |
| Spreader (Container handling) | 31.5t | A7 |
| 4-rope grab (Bulk handling) | 25t | A8 |
Main Performance Data
Working speed
| Max Hoist speed | 90 m/min |
| --- | --- |
| Max Slewing speed | 1.6 rpm |
| Max Luffing speed | 85 m/min |
| Max Travelling speed | 5 km/h |
Working radius
| Minimum radius | 10 m |
| --- | --- |
| Maximum radius | 40 m |
Hoist Height
| Above quay (at max radius) | 20 m |
| --- | --- |
| Below quay | 12 m |
Dimensions
| Overall width of crane -in working condition | 12.27 m |
| --- | --- |
| Overall width of crane - for travel(min) | 7.5m |
| Overall height: - tower in working position | 25m |
Ground pressure
| On wheels in travelling condition | 5.2t |
| --- | --- |
| On stabilizers with max load: -with standard footings | 17.5t/m2 |
| Average pressure on area occupied by the crane | 1.64t/m2 |
The lifting capacity range of GHC is 50-210t while the working radius covers from 36 to 58 meters.

Besides the efficient and durable operation, you will find it is very easy to maintain and operation. And of course we never forget the ergonomic and environmentally friendly design.

3 types undercarriages can be chose, tyre-type, rail-type and X-bracket.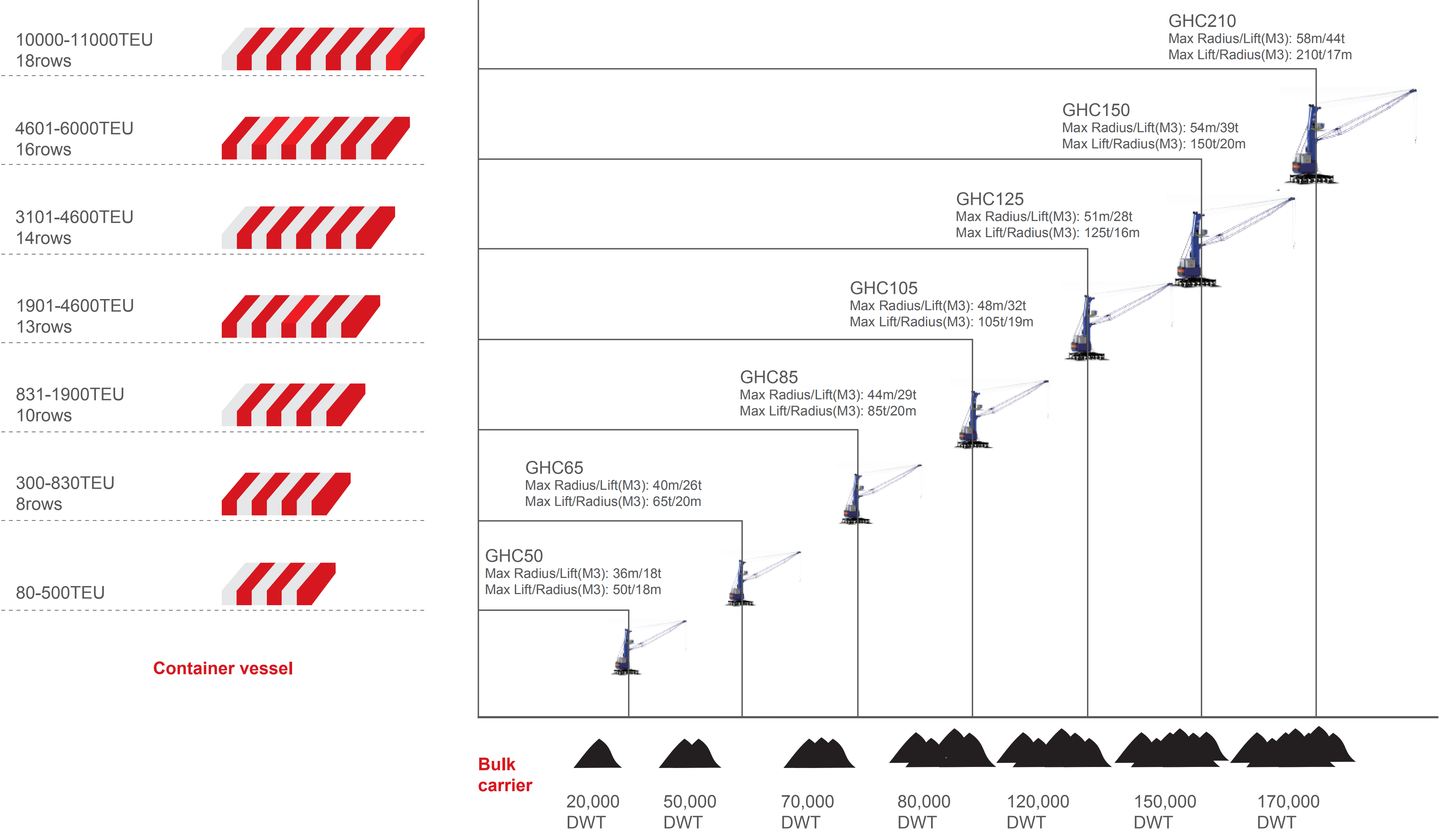 Feedback form contact with us